Programs and Workshops
Join world renown Jewish American songwriter Michael Hunter Ochs and award-winning Muslim Palestinian peace activist Alaa Alshaham for a one-of-a-kind weekend of music and conversation.  The two will share the story of their unlikely friendship –  in a most unusual way! Original songs, master storytelling, all accompanied by stunning photographs and exclusive video will sweep you into this unforgettable experience. 
Get ready to be inspired!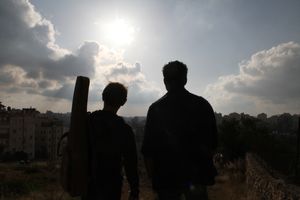 Main Programs
-The Pursuit Of Harmony Shabbat, Sermon, and Song 
-The Pursuit Of Harmony Concert and Conversation 
Workshops
-Classes with students (Compassion, Tikkun Olam, Mini Concerts) 
-East Meets West Percussion Circle
-A Funny Thing Happened On The Way To Peace
-The collaboration process through songwriting 
-THE ETHICS OF RESPONSIBILITY
-Choir and/or community musicians workshop (a rehearsal with Michael and Alaa. Who knows…maybe you'll even join us on stage for a few songs!) 
The Pursuit Of Harmony Residence is easily adaptable to fit your unique needs - be it a Shabbat or Interfaith weekend experience, community wide concert and conversation/school or university programming; or, a blend of all three.
Please contact us and let's create the right event for your community.
 *For more info and detailed program descriptions visit Contact Us and request our full color E-Brochure!*