About Us
Michael Hunter Ochs
Co-Founder
Michael Hunter Ochs has quietly established himself as one of the most versatile songwriters in America today. His song "In Her Eyes" was recorded by international superstar Josh Groban. The soul-filled "On My Knees" was awarded Song Of The Year honors from both the Gospel Music Association (Dove Award) and the Nashville Songwriters Association International, and spent 14 weeks at #1.  Michael's music has been attached to numerous feature films and TV shows including Downsizing (Matt Damon), My Super Ex-Girlfriend (Uma Thurman), The Terminal (Steven Spielberg), and The Simpsons. His songs have appeared on albums with world wide sales in excess of 20 million units. His songs have been recorded by international entertainers including, Helene Fischer (the number-one selling artist in Germany), Cheat Codes, Nico Santos, Natalie Grant, Cece Winans, and more. He is published by Kobalt Music Group.
In addition to his success in the world of pop music, Michael is universally recognized as one of the most respected and adored creators of contemporary Jewish music. He has served as Composer In Residence at Congregation Micah in Nashville, TN since 2000 and East End Temple in New York City since 2017. Many of his compositions have become essential threads in the fabric of the Reform Jewish movement. Every Friday evening congregations around the world rejoice, reflect, and draw closer singing his songs. 
In 2016, Michael was commissioned by New York's 92nd Street Y to compose an original Rosh Hashanah song,  "A New Year." The song was performed by communities around the world and has amassed over 10 million views on Facebook and YouTube — unprecedented in Jewish music. 
This composing talent - along with Michael's commitment to bringing people together in hope and understanding through song - has found him performing for members of the Nobel Committee, The Congressional Prayer Breakfast, the URJ Biennial, and The Jewish Museum of Berlin – to participate at the 70th Commemoration of Kristallnacht.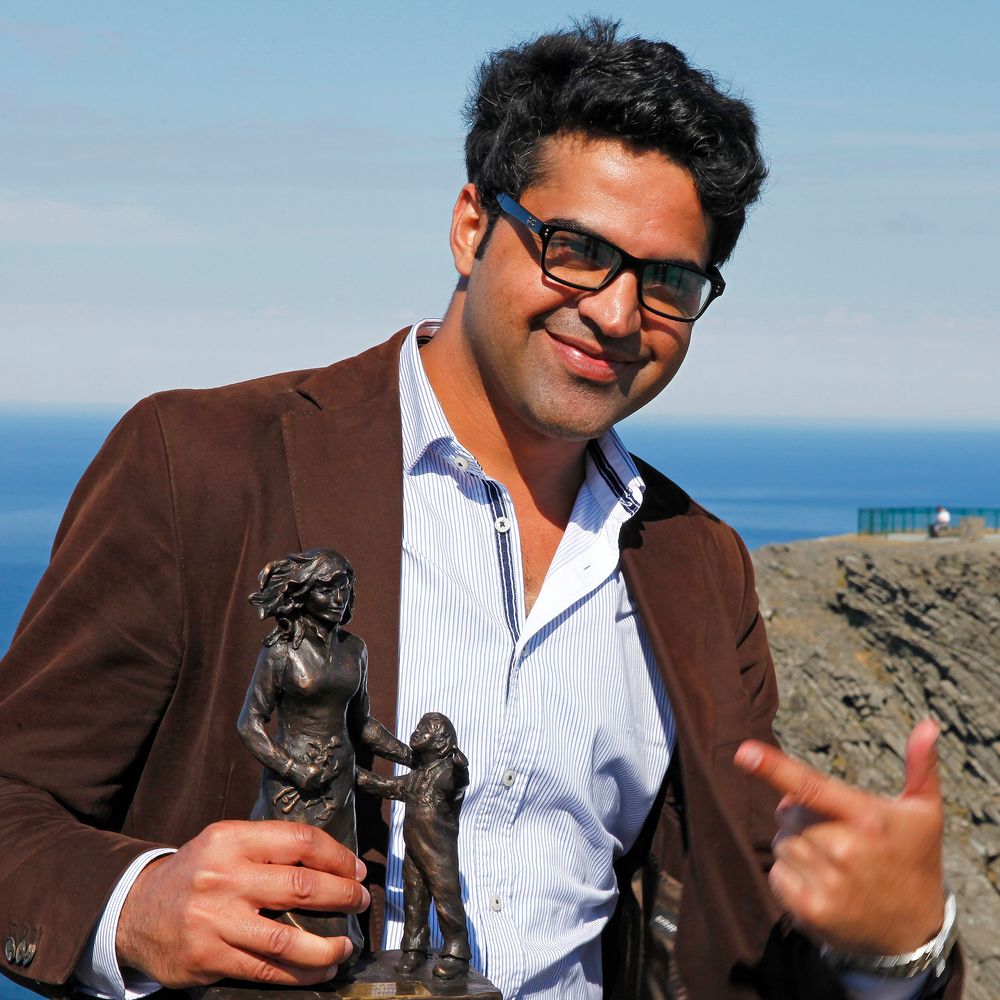 Alaa Alshaham
Co-Founder
Alaa Alshaham is a widely successful Palestinian songwriter and commentator.  Alaa's music often reflects the concerns of the Palestinian people. Mr. Alshaham believes that: "Music is not only a universal language; it's a language for positive change." His video "Obama Jai" pokes fun at the Palestinian welcome to President Obama's visit to Palestine in March of 2013. The video was a hit on YouTube and featured on Aljazeera, MBC, Palestinian and Israeli TV and many other media outlets. Mr. Alshaham was told by staff at the US Consulate to Palestine that Obama himself enjoyed the clip! In November of 2011, Mr. Alshaham established the Big Dream Initiative Children's Choir. Currently the choir boasts over 400 members on its way to one thousand voices singing together for Palestine and for peace. In 2014, Mr. Alshaham was awarded the Children Of The Earth Prize for his work with youth in conflict zone. Most recently he has become more involved in civil society with a high level of interest in Palestinian politics and current affairs. His political-satirical poems and music videos are garnering hundreds of thousands of views and shares across social media. Mr. Alshaham's warm personality and keen sense of humor shine through in everything he does, including his appearances as commentator on various television and news shows in the region. 
Alaa was born in Jordan and moved to Gaza in 1996 following The Oslo Agreement. He left Gaza for the West bank in 2007 – where he currently resides.
Mitch Gordon



Project Manager
Mitch Gordon has extensive experience as a professional musician, as a mediator, and conflict resolution specialist.  He served as Resource Development Officer for Conflict Management Group and was a trainer in close association with Harvard's Program on Negotiation. He was as an advisor to the Harvard Negotiation Insight Initiative, Israeli-Palestinian Negotiating Partners Program, Diaspora Dialogues, Abraham Path Initiative, and the International Society for Improvised Music. Additionally, he has led trainings for the UN's World Food Programme in Rome, The World Bank, Shell Oil Co., the Worcester College Consortium, and the National Association for Community Mediation.  Mitch was assistant director of the Worcester Community Mediation Program, was a district court community mediator for five years, evaluating more than 7,000 cases annually.  He created a virtual center for dispute resolution and training and Gesher: Building Bridges, a consulting group assisting synagogues and Jewish organizations dealing with conflict, leadership transition and resource development. 
As a performer and producer Mitch has appeared with Wynton Marsalis, Peter Yarrow, Yo-yo Ma, among others, and has performed at the Newport Jazz Festival, Carnegie Hall, and toured Europe and Japan. 
Advisory Committee
Dr. Henrik Syse
Research Professor at Peace Research Institute Oslo, Member of the Norwegian Nobel Committee
Henrik Syse (b. 1966) is a Research Professor at the Peace Research Institute Oslo (PRIO) and a Professor of Peace and Conflict Studies at Björknes University College in Oslo. He also teaches at several other universities and colleges, including the Norwegian Defence University College. Dr. Syse is a member of the Norwegian Nobel Committee, which awards the Nobel Peace Prize. He has worked on, inter alia, international ethics, professional ethics, the ethics of armed conflict, the philosophy of religion, and corporate governance and, from 2005 to 2007, was Head of Corporate Governance at Norges Bank Investment Management ("NBIM") which manages Europe's largest sovereign wealth fund, the Norwegian Government Pension Fund - Global. He was awarded a Ph.D. by the University of Oslo in 1997 and an MA from Boston College in 1991. Dr. Syse has lectured and published widely in the fields of philosophy, politics and ethics, and was named a Young Global Leader by the World Economic Forum in Davos in 2007.
Megan Alexander
Correspondent on Inside Edition, Author
Megan Alexander is an Emmy nominated national news correspondent, author, speaker and actress. She can be seen every evening as a correspondent on the longest-running, top rated syndicated national news magazine television show INSIDE EDITION. 
For the 2014 and 2015 NFL seasons, she covered Thursday Night Football on CBS. She hosts popular sports podcast "Women Talk Sport". 
An actress and producer, her film credits include roles in the movies Space Warriors, Redeemed, Heartbeats, and in the television dramas "Nashville" on ABC and "Still the King" on CMT. She is Executive Producer of the feature film "HEARTBEATS". Megan hosts the nationally televised Inspirational Country Music Awards each year from Nashville, TN. 
Megan sits on the Board of Trustees for the Hugh O' Brian Youth Leadership Foundation and the Advisory Committee for The Pursuit of Harmony. 
She previously worked with Fox 17, Metro Networks, KENS5, the CBS station in San Antonio, TX, and co-hosted the morning show Great Day San Antonio before joining the INSIDE EDITION. She is also a frequent guest commentator on HLN, CNN, FOX NEWS, The Wendy Williams Show and more. 
Her first book, "Faith in the Spotlight – Thriving in Your Career While Staying True to Your Beliefs," was released by Simon & Schuster on October 4, 2016. She is working on a second book, a children's picture book, out Fall 2019. 
Megan splits time between NYC and Nashville, TN. She and her husband have 2 sons.
Daoud Abudaib 
Founder and President of The Faith And Culture Center 
Daoud Abudiab is President and Founder of Faith & Culture Center. He is a veteran healthcare executive with more than 20-years in physician group management.  Daoud received his Masters of Health Services Administration from the University of Arkansas at Little Rock. In 2010, Daoud was recognized by the Tennessee Immigrant & Refugee Rights Coalition with the Johnny Hayes American Dream Award, and in 2012 received the Rising Advocate Award by the Tennessee Human Rights Commission. Additionally, Daoud is involved in several Middle Tennessee community organizations.
Rabbi Billy Dreskin 
Woodlands Community Temple (New York) 
Rabbi Billy Dreskin grew up in Cincinnati, Ohio. His elementary education was acquired at Bond Hill Elementary School, after which he attended Cincinnati Country Day, then Crest Hills Junior High, and graduated from Walnut Hills High School. After successfully de-matriculating from six weeks at the University of Michigan in Ann Arbor, he attended Brandeis University where he studied music, twice receiving the Reiner Prize in Music Composition, and graduating in 1980. After two years in New York City pursuing an elusive career in musical theater, he entered Hebrew Union College-Jewish Institute of Religion in 1982. During his years at HUC-JIR, his musical, "Personals," opened off-Broadway at the Minetta Lane Theater (co-written with friends David Crane and Marta Kauffman, responsible for the hit television series, "Friends" ... you can actually find the show's poster, with his name listed in the credits, still hanging in the Minetta's basement lobby!). Billy is very happily married to Cantor Ellen Dreskin, is the proud father of Katie, Jonah (z"l) and Aiden, and the proud human of Charlie. 
Ellen Dreskin 
Cantor, Educator, Liturgical Artist 
Ellen Dreskin is an innovative leader in Judaism's Reform Movement. Her expertise extends from music to synagogue transformation, from experiential education to enlivened liturgy and mysticism. She has worked as a scholar-in-residence with Jews of all denominations from Houston to Chicago and Los Angeles to Boston, has served as Cantor and Educator for congregations in Cleveland and New York, and has taught for many years at numerous national conferences and educational seminars. 
Ellen earned her Cantorial Ordination at Hebrew Union College – Jewish Institute of Religion, has a Master's Degree in Jewish Communal Service from Brandeis University, and is proud to have received her honorary Doctorate of Music from Hebrew Union College – Jewish Institute of Religion in 2011. She is a synagogue consultant and clergy coach in the areas of liturgical innovation, personal prayer practice, and communal worship skills. 
She is married to Rabbi Billy Dreskin, and is extremely proud of their joint projects:  Katie, Jonah (z"l), and Aiden.